Home

Collecting LITHUANIAN FIREARMS
(Last updated 9/05/08)


Introduction
Unfortunately, very little has been published on the subject of historic Lithuanian firearms. This page represents an effort to change this. It is not at present meant to be an authoritative source, but rather a growing repository of information on the subject. The reader is invited to remit comments on the veracity of the following content, and of course, offer new information and/or photographs. This informational resource would not have been possible without the generous contributions of time and data from other Lithuanian firearm collectors.

1919-1940 (Lithuania's Independence and the Struggle to Maintain It)
Perhaps one of the rarest nationality of weapon contracts of the era, Lithuanian contract firearms seem to be far more rarely encountered than those of the other Baltic nations. The prevalence of Baltic contract firearms would seem to be a function of which forces captured the arms at the onset of World War II. For example, a significant number of Estonian rifles used against the Germans eventually ended up being surrendered to the Allies in Czechoslovakia and other western theaters. A great many Lithuanian firearms, however, were captured by the Russians and disappeared behind the Iron Curtain for almost fifty years. These were used heavily and traded many times over to various countries, rather than being preserved in the hands of collectors.
A specific example of this is one of the rifles pictured on page 164 of Robert W. D. Ball's Mauser Military Rifles of the World . The depicted FN Model 30 Short Rifle has Chinese markings, having been in the arsenals of Lithuania, Russia, China, and possibly also Germany and Korea as a result of captures and arms trades. Ball even suggests that some Lithuanian rifles were "captured by the Germans, then by the Russians, who supplied them from storage to the Viet Cong, from whom they were captured by the Americans!" The level of wear on these rifles is often considerable. Photos of a Lithuanian rifle, also evidently used by China at some point, can be seen here .
The author has personally examined one Lithuanian FN Model 30 Short Rifle with a cracked handguard, apparently arsenal-repaired with a staple . This repair is physically effective, despite its obvious aesthetic drawbacks. The rifle was one of three accidentally imported with a batch of German 98k's (and mistakenly importer-stamped as such!) from Romania. These rifles were captured by Germany and given to Romania during World War II. The type of repair evident on this rifle is perhaps less surprising when one envisions a Romanian armory with hundreds or thousands of 98k's, and three oddball Lithuanian FN30's with completely distinct parts. When something broke on an FN Model 30, replacement was a far less viable option than if the weapon were one of the many 98k's.

RIFLES

Immediately after gaining independence, the new Lithuanian army's standard weapon stocks included leftover Model 1891 Mosin-Nagants, German Model 1898 Mausers, [9 ] and Enfield rifles supplied to the Italians in WWI and then sold to Lithuania in 1924 (along with a large supply of .303 caliber ammo). The Mosin Nagants and British Enfields were relegated to police, national guard, and reserve units because of a desire to standardize ammunition for the rifles supplied to primary units. The Enfields were later traded in as part of the arrangements for purchasing Belgian FN carbines. [5 ] As time passed, new rifles were purchased for the army under contract.

Known Lithuanian Rifle Contracts and Markings
It has been suggested that the Lithuanian army purchased the following rifles:
CZ vz. 24's in 1926-1927 [3 ] Possibly two distinct contracts.

It is believed that there were two shipments of vz. 24 rifles. According to an unnamed Czech-language text, the first shipment occurred in 1926, and included 40,000 rifles. The second shipment spanned 1937-1938, and included 15,000 rifles. Also supposedly included in these contracts were Model 1926 Bruno light machine guns. At least some of the vz. 24 rifles were "in the white" (that is, not blued), and evidence from soldiers who served in the Lithuanian Army at the time suggests that these rifles were not specifically marked as Lithuanian [ 6 ].

CZ Model L Short Rifles (chambered for .303 British) in 1931 [3 ].

This often-cited purchase seems not to have occurred. Rather, a rifle was designed with a M95 Mannlicher style bayonet (with the catch on the hand guard), Mexican-style sights and other modifications including a curved bolt and fore-end sling swivel, and a few test pieces were sent to Lithuania in 1926 (thus the "Model L" designation). Samples of the same model were sent to South America in 1929 and Siam in 1930.[ 5]

FN Model 30 Short Rifles in 1935-1939 (Possibly several separate contracts; also called the Model 24/30 by some authors)

At least one of these FN contracts called for a stock almost identical to that found on the vz 24. The stock featured 4 sling swivels, a configuration relatively uncommon in FN contract rifles. These sling swivels are not the same variety as those found on the vz 24, which is a key point in differentiating the manufacturers [4] . (Note: to ensure that a stock is an original FN part and not a vz 24 replacement, one can check all metal components on the stock (especially the bayonet bar and butt plate) and make sure there are no "CZ" stamps [ 5] ). The 4-swivel configuration was for varied use by different types of troops. The standard swivel mounts were intended for infantry and motorized troops. The side swivels were used by the cavalryman to keep the straight bolt from causing him pain at each stride. The rifle could instead be carried over his back using the alternate sling configuration [ 6 ].
The aforementioned FN's are marked "24.L" and most feature the Gedimino Stulpai
(Columns of Gediminas) symbol, shown below.

I have heard reports of four varieties of receiver ring markings on the Lithuanian FN:

1. Intertwined script "FN" inside a circle, with "Mod. 24 L."

Gaidis believes that there may have been an even earlier variety with the script "FN" but without the "Mod" marking. This variety would be limited to a few test pieces used before any large orders were placed. These probably came from existing stock.


2. Pillars of Gediminas with "24 L." below:

3. "GINKLU FONDAS", "1937" over the Pillars of Gediminas, and " L" below. [1 ]


4. "GINKLU FONDAS" over the Pillars of Gediminas, and "24 L" below. No date.[5]



Note: "GINKLU FONDAS", meaning "arms fund", is a term still associated with the Lithuanian military today. Weapons so-marked were paid for by cash donations from the civilian population, not tax revenue.

Lithuanian proof marks (Pillars of Gediminas) also appear on various parts on some rifles, including the top of the front of the triggerguard assembly (visible only when the rifle is disassembled), the trigger, the lower receiver above the trigger (likewise visible only when the rifle is disassembled), the top of the bolt handle, the front barrel band/bayonet lug, the rear sight base, and the back of the bottom of the rear sight. Note that some markings may be partial due to imperfect stamping. A Lithuanian Army Officer was assigned to the FN factory for quality assurance purposes, which may have something to do with the extent to which so many individual parts were stamped. (Thanks to Ed (mauserdad) for the detail photos!)
A 1919 photo indicates that Lithuania also ended up with German Gewehr 98's and K-98's, Russian Mosin Nagants, and even Japanese Arisakas! The German and Russian guns may have been bring-backs from Lithuanians who abandoned the crumbling Russian and German armies in 1917 and 1919, respectively. One might guess that the Japanese Arisakas were bring-backs from the Russian Army (which purchased 760,000 Arisakas from Japan and England; see [ 2] ) or direct purchases by Lithuania from one of the aforementioned countries. It is known that Finland gave 10,000 Arisakas to Estonian freedom fighters. The Lithuanian army used British WWI-era Enfield rifles. Captured weapons were only given Lithuanian markings if they were sent to the arsenal for repairs (and then, only the repaired piece was stamped).

Note: Kevin Carney (of North China Arms) mentioned in an email that he has encountered a Lithuanian Ezensast (sp?) Mosin Nagant 1891 that came out of Bulgaria. The relevant marking appears on the underside of the stock, just forward of the trigger guard: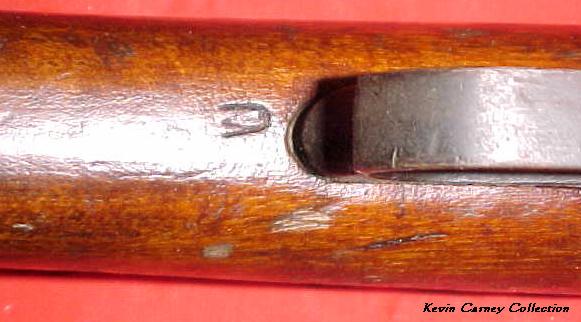 (Click on photo for closeup.)
More information on these is desired.
Supposedly, black-painted Lithuanian FN Model 30's exist that were refurbished by France and sold. See http://www.geocities.com/Yosemite/Meadows/7162/danR.htm

Historic Photos
British Pattern 14 (P14) "Enfield" rifle
Lithuanian machine gun unit armed with British P14 rifles
Lithuanian soldier armed with a British P14 rifle
Lithuanian soldiers practice firing their British P14 rifles in a 1931 summer training exercise
Members of the 1st Infantry Regiment fire at targets during a training exercise; note the P14 bayonets worn on the belts of the nearest soldiers

FN rifle
A Lithuanian soldier armed with an FN Model 30 rifle tends to his dog near a snowy forest
A Lithuanian soldier shouldering an FN Model 30 rifle
A member of the 1st Infantry Regiment practices marksmanship, with officers in background
A rack of FN Model 30 rifles in the barracks of the 1st Infantry Regiment
A Lithuanian machine gun squad armed with a Russian M1910 Maxim machine gun, FN and German Mauser rifles
A Lithuanian machine gun squad poses with a Browning machine gun and FN rifles

German M1898 Mauser rifle
A Lithuanian soldier poses with a German M1898 rifle
A Lithuanian training poster for the German 98k Mauser rifle
A Lithuanian machine gun squad armed with a Russian M1910 Maxim machine gun, FN and German Mauser rifles


Additional photographic references for the FN rifle:

Two different Lithuanian FN Short Model 30's and a Lithuanian vz 24 appear on page 158 of Ball's Mauser Military Rifles of the World .
A color photo of one of the FN Short Model 30's appears on page 164 of the same reference.

Bayonets
A 15 inch Lithuanian-marked bayonet (apparently a cross between the Belgian and Czech models, with the cutting edge down, but with a lug like the FN and 3 distinct Pillars of Gediminas stamps) has been recorded [ 6 ], as have standard FN export bayonets (finished in the white with a single Pillars of Gediminas stamp) [5] . Neither bayonet version has any manufacturer's markings on it.

Modern Rifles
Lithuania was given 200 M16A1 rifles by the US on 7/7/1997. On 1/9/1998, Lithuania received 40,000 M14 rifles (from the US again), along with 500,000 rounds of 7.62mm blank ammunition and 1,500,000 7.62mm ball ammunition. They also received a few thousand anti-tank rifles. See http://www.fas.org/asmp/profiles/worldtable.html for more details. Also see this photo of Major General Kronkaitis, the former Commander in Chief, holding one of the 40,000 M14s.
It seems quite likely that Lithuania ended up with AK-47's at some point in the recent past. It has been established that a Lithuanian weapons designer has created the "Vytis-1", which looks like a small AK-47. I will post photos of this soon.

MACHINE GUNS

Lithuania purchased Vickers machine guns (Class 'E', 'F' and 'C/T' guns in "reasonable quantities") during this period. Its military forces also reportedly used the CZ-made 7.92mm ZB vz.26 LMG (designated the 7.92mm ZB26), the 7.92mm vz.37 machine gun, Browning water-cooled machine guns, and the Maxim M1910 in 7.92mm.
The following photo shows an experimental "Vladas" Model 1992 machine pistol in 9mm. Note the Lithuanian double cross in a shield marking on the receiver, along with the date of manufacture.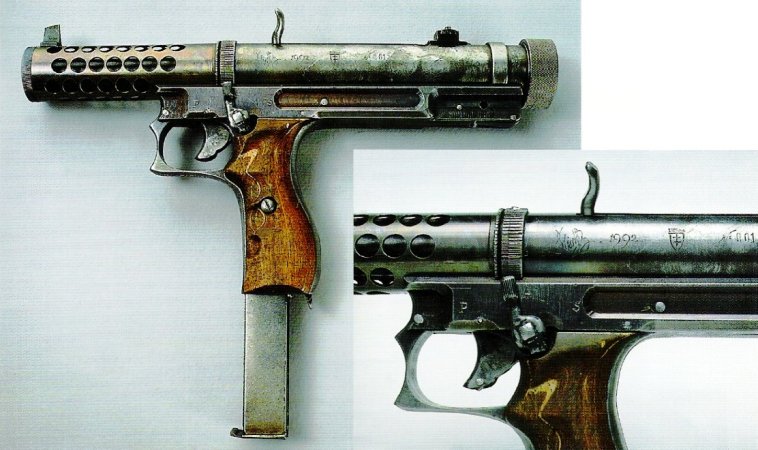 Historic Photos
Browning water-cooled machine gun
Lithuanian soldiers man a Browning machine gun; the soldier on the left feeds ammunition while the one on the right spots the target
A Lithuanian machine gun squad poses with a Browning machine gun and FN rifles

Maxim machine gun
A Lithuanian machine gun squad armed with a Russian M1910 Maxim machine gun, FN and German Mauser rifles



PISTOLS

Immediately after gaining independence, the new Lithuanian military armed its officers and cavalrymen with Russian M1895 Nagant revolvers, or German Model 1908 Luger pistols. [9 ] As time passed, new pistols were purchased for the army under contract.

Known (and Alleged) Lithuanian Pistol Contracts
CZ vz 24 As of a few years ago, it was believed that the only known vz 24 contracts were about 1,700 pistols purchased by Poland's Ministry of the Treasury in 1929 and 1930, and "several hundred" purchased by Lithuania's Ministry of the Interior in 1929, 1930, and 1934. Contract variants apparently consisted of the standard vz 24, a vz 24 with an extended grip to accomodate a 9-round magazine, and a similarly-extended model that also had a groove for a detachable holster shoulder stock. Robert Berger's book also tells us that the 9 shot variants are all dated from 1929 to 1931, and that they are in a separate serial number range (1 to about 3100). Most unsold 9-shot variants were eventually issued to Finance Guards. [8 ])

I contacted Mr. Berger to find out what is known about these contracts. Mr. Berger did not have any further information, and reminded me that his book was based only on the limited information available during the Cold War (for what it's worth, I still think its organization and manufacturer history make it one of the most enjoyable firearm references out there!) Mr. Berger referred me instead to Ceskoslovenske Pistols 1918 - 1985, by Jan Skramoušský and Vladislav Badalík, for more complete information. While my perusal of the latter is still far from complete (it's written in Czech, with uselessly terse English chapter summaries; I studied a year of Czech in graduate school, but this has proven insufficient for smooth reading), there were a great many foreign contracts for CZ pistols. However,there are no references to a Lithuanian vz 24 pistol contract. On page 119, we learn that some specimens of the vz 27 pistol were sent to Lithuania, exported via Hubertus (an Estonian company, I believe) on August 1, 1937. On page 117, the author states (quoting my translation here): "As with the vz 24 army pistols, of which only a small quantity went to the Baltic Republics (exported to Latvia and neighboring Lithuania), CZ was unsuccessful. A proposal dated November 20, 1928 for 1,000 vz 27 pistols to be priced at $10.80 US went without a response." We later learn that "just two examples of the vs 27 production pistols, along with 200 rounds of ammunition" were sent to Lithuania in December 1928. In summary, it that there were numerous sales solicitations sent to Lithuania accompanied by trial specimens, but nothing ever came of it. For you Czech pistol collectors, there was a Polish contract for the 9-round vz 24s, among others, and the remainder of the pieces were indeed issued to the Czechoslovakian Finance Ministry Guards as suggested by Berger. In any case, it seems that the "Lithuanian vz 24 pistol contract" is similar to the "Lithuanian Model L rifle contract"; no evidence of the illusory contracts exists, but rather, a few likely-unmarked-as-such trial pieces changed hands.


Luger (probably spurious)
As of November, 2006, I am convinced that the Lithuanian-marked Lugers are spurious -- pieces fabricated purely for the collector market by unethical dealers. See The Great Lithuanian Luger Debate.

One of the Lithuanian-marked Lugers is pictured below (a DWM 1920, SN 59xxA), priced at $2750 as of Spring 2001.


Gaidis does not believe that these specimens are legitimate:

"There are [a handful] of these on the market. I have never found a Lithuanian Army Veteran who ever heard of these, there is no Lithuanian documentation that they ever existed, and they did not surface until some time in the 1960's when many things were being faked.... If you ever collected Confederate weapons, you know how easy a CS, CSA, or CSN can be added. This is an example of the Pillars being added to a German weapon during the post war period."

Lithuanian-marked Nagant revolvers have also been seen for as much as $1750 (Fall 2002). All observed specimens came from the Muller collection.

As with the aforementioned Lugers, Gaidis alleges that these are faked markings.

The Lithuanian army did use use Nagant pistols, in addition to German model 1908 Lugers, 1910 Mauser pistols, and German Broomhandle pistols. However, such weapons were only given Lithuanian markings if they were sent to the arsenal for repairs (and then, only the repaired piece was stamped).

The jury is still out on these Lithuanian-marked Nagants, although it does seem quite fishy that they all seem to have made their first appearance in the same person's collection.


Broomhandle Mauser (apparently used by police, not military) [ 6 ]
FN Browning Hi-Power (made some time between 1934 and 1938)

Photos of a late 1930's Lithuanian Browning appear below. Note also that the Lithuanian army has employed the Browning Hi-Power in more recent times. Like the the original models, these are marked with the Pillars of Gediminas [ 6 ]. Additional Browning photos can be seen here

Photos courtesy of Collectible Firearms and Edged Weapons, which is (as of January 2006) offering this specimen for sale at $3500.



Historic Photos
Luger pistol
Lithuanian soldiers armed with Luger 1909 pistols

Miscellaneous pistols
A Lithuanian soldier poses with what appears to be a Becker & Holland Beholla pistol, or later derivative (e.g., a German Stenda, or Menz/Menta pistol)



Modern Pistols


The current sidearm of the Lithuanian Army is the ever-reliable CZ 75. These pistols are marked with the Pillars of Gediminas on the side.

Coming soon: A discussion of the recently-seen Lithuanian Police-marked FEG Hi Powers in .40S&W. In summary, these were a result of a failed contract between Lithuania and FEG. As they were never used, all specimens (which were imported by SSME Deutsche Waffen, and sold by both the latter and SOG in 2002-2003) are in unissued condition (NIB). Photos appear below.




Note: Linas reports that, as of October 2002, the Lithuanian Police currently use the CZ 75, CZ 75 Compact, CZ 85, CZ 100, CZ 110, Glock 17, Glock 17C, Glock 17L, Glock 19, HK USP, HK USP Compact, Walther P99, Sig Sauer P226, Sig Sauer P229, Sig Pro, and several Russian models. Of these, only the CZ 75's are marked with the Pillars of Gediminas. No Lithuanian markings appear on any of the others. Thanks Linas!

Note: According to a November 2006 press release from the Lithuanian Police Commissioner, Lithuanian police have updated all their old Makarov pistols to Glock 17 and Glock 19 pistols.


MISCELLANEOUS


Serial Number Data

Some FN pistol and rifle serial numbers are listed here .


Links of Interest
Firearms of the Hussars of the Polish-Lithuanian Commonwealth, 1570-1750

A summary of Lithuania's Independence Wars and the procurement of equipment during said wars can be found at Lithuanian Armed Forces of the Independence Wars .

An overview of various Lithuanian armaments can be found at Lithuanian Armor.

For information on the weapons of the Lithuanian police, visit this page. (Sadly, this site seems to be gone for good; maybe it can be found in a cache somewhere?)

For information the rifles of Estonia (another Baltic nation), visit this page.


Email the Author

The author of this page can be reached at webmaster-at-freeexistence.org. Replace "-at-" with "@" in the "To:" line.


References

[ 1]: Ball, R.W.D. (2000). Mauser Military Rifles of the World , 2nd Edition. Wisconsin: Krause Publications. ISBN: 0-87341-828-X.

[ 2]: Military Rifle Journal article from April 1999 (Link presently down)

[ 3]: Walter, J. (1998). Rifles of the World, 2nd Edition. Wisconsin: Krause Publications. ISBN: 0-87349-202-1.

[ 4]: Email correspondences with Bob Rapp.

[ 5]: Email correspondences with John Wall.

[ 6]: Email correspondences with Henry L. Gaidis.

[ 7]: Hogg, I., & Weeks, J. (1992). Pistols of the World, 3rd Edition. Illinois: DPI Books. ISBN: 0-87349-128-9.

[ 8]: Berger, R.J. (1989). Know your Czechoslovakian Pistols. Arizona: Blacksmith Publishers.

[ 9]: Gaidis, H.L. "Lithuanian Military Arms", The Gun Report, January 1981.





Home

Reminder: All content on this site is automatically copyrighted by virtue of the Berne Convention for the Protection of Literary and Artistic Works.